30 Dec

What is Digital Marketing? A Complete Oveview for Businesses

by Grigoris Filios (Updated 30 Dec)
How can I get started with Digital Marketing? 
Within today's modern world of business advertisements and promotional campaigns, digital marketing has emerged as the latest essential component of a successful organization.
Whether it's creating an Instagram account or bringing Search Engine Optimization to the content on their web pages, businesses across the globe have started in the race to learn what digital marketing is, and quickly start using it to their advantage. 
These efforts are well worth the investment – a 2014 report found that 70% of internet users specified that they would rather learn about products through content, rather than traditional methods of advertising.  
This is hardly a surprising trend when you consider the fact that, in a similar study undertaken by Pew Research, the number of adults that classified their internet usage as "constant", has risen by 5% in just three years.  
It is with these statistics in mind, and the benefits to your business that they promise, that we have created our comprehensive guide to getting started with digital marketing. 
In this article, we will be providing you with a breakdown of what digital marketing is, and showing you how you can integrate this promotional practice in your operations. Then, for anyone who may still be sceptical, we will be going over all the benefits to be gained from implementing a strong, modern and sophisticated digital marketing strategy within your business. 
What is digital marketing? 
Generally speaking, marketing involves pinpointing what your customers are looking for, and then creating a campaign around the emotion, requirement or need that you have identified. 
Traditional, non-digital marketing methods could involve the production of flyers, advertising in print publications, writing letters or printing posters. 
Good marketing aspires to create a message that connects with the target audience – as a business, your pieces of marketing should contain messages that your customers feel that they can both connect and relate to. 
Now that digital technology has experienced such rapid growth, this led to a new wave of marketing efforts, as businesses started utilising the widespread usage of technology like smartphones, tablets, social media platforms and computers to their advantage. 
Digital marketing involves targeting the attention of online shoppers and browsers, and leading them towards your business. 
Today, your business's digital marketing strategy should be receiving just as much attention, effort and capital as your conventional, old-school marketing methods. 
Types of digital marketing channels and tools 
In an intriguing report conducted by Invesp, it was discovered that on average, companies that successfully maintain a strong, omni channel presence retain 89% of their customers. In comparison, companies that only have a weak omni channel programme typically only retain 33% of their customers.  
With this in mind, let's explore the variety of different digital marketing options that you can deploy for your business. As you can see from these statistics, it is certainly worth looking at taking onboard a good number of these.  
Digital marketing channels and tools encompass a wide variety of different methods, platforms and types of technologies. These include, but are not limited to:
Search Engine Optimization (SEO)

Content marketing

Online PR

Your company website

Social Media marketing – this includes platforms such as Instagram, Facebook, Twitter, LinkedIn. It may also require you to keep informed about newly emerging social media platforms, such as TikTok. 

Pay Per Click (PPC) marketing 

Search Engine marketing (SEM)

Affiliate marketing

Native advertising

Marketing automation

Email marketing

Inbound marketing

Digital marketing analytics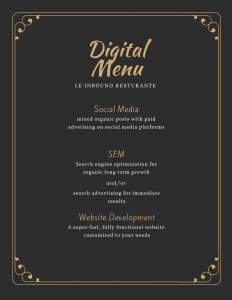 The majority of digital marketing channels and assets can be broken up into three different types. These are:
Earned digital marketing: this is marketing content that has been produced by someone external to your business, and has been published in a location that you do not own. Examples of this include reviews of your business or product, your company being mentioned on social media, or being featured in press content. 
Owned digital marketing: owned media covers all types of digital marketing that your business has ownership of. This includes your website and any social media channels that you run. Since you own the platform, you have full control over the content that is published on it.  
Paid digital marketing: this covers digital marketing content that you have paid to have published. This type of content is designed to target potential consumers and lead them to your website. Paid media includes online adverts, social media banners, or SEM.  
How can I develop a digital marketing strategy? 
While there's an awful lot of different elements to cover, creating an effective digital marketing strategy is easier than you may think. The key to success is knowing exactly what you are setting out to achieve, and keeping this objective in the forefront of your mind throughout the process. 
The best way that you can do digital marketing is by following these simple steps: 
Define your goals

– for example, this could be increasing the number of sales that you generate online, or boosting the level of brand recognition amongst your target market. 
Identify your target audience

– ensure that you understand exactly who your target market is. You can identify this group by considering things like their age, gender, background, motivations, reasons for purchasing your product, and so on.
Establish a budget for each digital channel

– set clear budget breakdowns for each digital marketing avenue that you intend to pursue. In addition, at this stage, consider which types of marketing are best for your business to invest the most in. For example, if you find that traffic on your social media channels is already generating a significant number of sales on your website, it would be worth allocating this channel a higher proportion of your budget. 
Strike a good balance between paid and free digital strategies

– remember, you don't always have to spend a fortune on your digital strategies. Never underestimate the power of a well-written tweet. 
Conduct keyword research

– find out which keywords are the most commonly used terms when shoppers are trying to find your product or service type. That way, your content can be optimized for search engines, like Google, far more effectively.  
Repeat based on the analytics you measure

– use your analytics of your digital marketing campaigns to find out what was a hit and what was a miss. Then, repeat the strategies that were proven to be a success. We'll be going into what classifies as a success in a bit more detail below. 
These steps will help you to get started with the process of creating a clear, effective strategy. By adhering to this process, you can ensure that each new piece of content that you create is the most successful that it can be. 
Then, once you are familiar with the process, you can set about moulding it to best fit the particular needs of your business. These elements are designed to be flexible, and you should work to follow them in the way that suits you, your customers and your marketing team the most effectively. 
How can you define a digital marketing campaign as a success? 
There are multiple ways in which you can measure the success of your digital marketing campaign. This is all thanks to digital analytics. 
Your business can use digital analytics to track the impact that your digital marketing campaign had from a variety of different perspectives. You can then use this information to create detailed reports about a campaign and the results that it generated. 
With digital analytics, you can measure these three key elements of your digital campaign: 
The change in traffic to your business's website or social media channels that it created

The total cost of the digital marketing campaign 

The revenue that was gained (through an increase in your numbers of customers) by the campaign 
By weighing up these three elements against each other, you can calculate your return of investment (ROI), and thereby determine the success of your campaign in terms of monetary value. 
However, normally assessing the success of your digital marketing goes beyond simply measuring your ROI. It is essential that you evaluate your campaign based on the goals that you defined at the start of the process. You can then deploy a measurement strategy that evaluates the success of the campaign with this goal in mind. 
For example, you may wish to gain data surrounding your customer's click-through rate, your lifetime customer value, or your average engagement rate. All of these measurements give an invaluable insight into the way your customers perceive your brand and how happy they are with your offerings.  
To assist you with this step, you can use a piece of marketing automation software. These tools will help you to measure the data behind your digital campaign, and access these vital statistics. This way, you can evaluate the success of your marketing efforts far more objectively. Examples of marketing automation software include the likes of HubSpot Marketing Automation, Omnisend or InfusionSoft. Have a browse through different software providers to find the right fit for your business. 
What benefits can digital marketing bring to my business? 
Now that we've covered the what and the how it's time to move on to the why. 
We've spoken a bit about how you should identify your unique business goals before you launch a new digital marketing campaign, but we haven't explained why digital marketing is the best strategy to use to help you to achieve these aims. 
Digital marketing helps businesses to grow, expand their outreach and boost their sales – all of these aspirations can be unlocked with a solid, intuitive digital marketing strategy.
To break down these plus points in more detail, here are our top five benefits of having a digital marketing strategy in place: 
Its success is measurable – as we mentioned in the section above, you can gain clear detailed information pertaining to the success of your digital marketing efforts. Rather than wondering how much of your increase in sales is attributable to the billboard poster that you created, the success of your digital marketing strategies can be evaluated in detail. 
You can actually outrank the industry giants that you are competing against – with digital marketing, you can actually outrank your bigger competitors, regardless of how much money they can afford to throw at their marketing. This is because you can be strategic about your digital marketing and – with some clever keyword usage or well-made content that your target market finds enjoyable – reach a higher ranking on search engines or social media than your competitors. 
You can focus your efforts on your target market – this is far more efficient than conventional non-digital marketing methods where you would be spending money advertising your product to a number of people who would have no interest in it. Digital marketing enables you to promote your business to people who are far more likely to become your customers. 
It is a highly cost-effective marketing method – you can allocate a set budget to a digital marketing strategy and then monitor its progress over time. Then, if you find that it isn't providing you with the ROI that you had hoped for, you can easily decrease the funds that you allocate to it. 
An additional reason why digital marketing represents such a cost-effective option is the fact that you can even invest your time in a number of free online strategies, such as creating new social media content. 
You can connect with your audience around the clock – as an example, the obvious issues with creating a television advert would be that it is five minutes long, it is shown one single time, and it can only be viewed by a person at home with the tv on at a very specific time. If we compare this to digital marketing, you can use these strategies to connect with your audience at any hour of the day. Whether it be automated social media posts, 24/7 online ads, or using SEO to ensure that your name comes up whenever your customers decide to search for your product, digital marketing enables you to create a consistent presence for your brand. 
Digital marketing has the potential to provide your business with a fantastic opportunity for growth, by establishing stronger connections with your existing customer base, and getting you in front of a whole new audience too. 
So, if you want to ensure that your digital marketing efforts are a success, enlist the services of professional digital marketing experts. At Inbound Hunters, we specialize in helping our customers to create innovative, engaging and highly successful digital marketing strategies. We work closely alongside our clients and help them to use digital marketing to achieve their unique company goals. If you would like to find out more about how we can assist your business, do not hesitate to get in touch with us.